Clearwater Beach activies are plentiful all year long and colorful beach umbrellas set the mood for the perfect getaway.
These 7 Clearwater Beach Activities Should be On Your Florida Travel List
Just like cold-stunned New England turtles packed in Chiquita banana boxes flying to Florida's sunny coast at Clearwater, winter travelers exchange white-outs and blizzards with Florida Gulf's white sandy beaches. With over 360 days of sunshine every year, there is a lot to love in Clearwater. But the fun doesn't stop when winter is over. Spring and Summer are popular too.
*psst….the turtles in a box is a real thing – watch the video linked above!
Adventure to an Island Getaway
You will feel like you're a million miles away from civilization on Caladesi Island State Park.
Getting to Caladesi Island State Park is part of the adventure. You can reach it by boat, and a kayak will work perfectly. Paddling will take about 20 minutes from Honeymoon Island Causeway Beach, where you can rent a kayak if needed. While you may get a little excitement crossing jet ski waves, a surprise from a local dolphin, or a sighting of the cotton candy-colored roseate spoonbills, once you arrive at the park, your reward is clear waters and soft white crystalline quartz sand. If paddling is not your thing, you can take the ferry across. Near the park's marina, there's a hiking trail, a café, and rentals for beach chairs and umbrellas.
Mingle with the Stars
The star of the show at Clearwater Marine Aquarium is Winter, the resident dolphin who inspired the movie, "Dolphin Tale." But that's not all. Sea turtles, pelicans, otters, sea rays, and other marine life are waiting to be enjoyed too.
Celebrate Sunset at Pier 60
You're likely to catch a watercolor sunset masterpiece from any patch of sand along the Gulf Coast; however, heading to Pier 60 has the added benefit of spontaneous fun, like local street performers and people-watching as folks gather for the day's finale. This ranks high for must-do Clearwater beach activities for locals and visitors!
Catch a Game: Spring Training and Minor League Baseball
High school, college, minor leagues, major leagues and spring training – all in and around Clearwater FL
Clearwater has you covered if you're a baseball fan or a lover of great hotdogs. Spring training in Florida happens at two stadiums. The Philadelphia Phillies play at BayCare Ballpark (formerly Spectrum Field), and the Toronto Blue Jays play at TD Ballpark, aka Florida Auto Exchange Stadium, in nearby Dunedin. Major League Tampa Bay Rays games are in nearby St. Pete's at Tropicana Field. You'll also find minor league baseball games here: Clearwater Threshers at BayCare Ballpark and Dunedin Blue Jays at TD Ballpark. High school and college games are played at Jack Russell Memorial Stadium, the former home for the Phillies spring training, which has a rich history and classic ballpark feel.
Enjoy a Special Event or Festival
Check the calendar for an event that sparks your interest…or appetite!
Clearwater and nearby St. Petersburg, Florida, have events on the sand and surrounding areas all year round. That's one of the benefits of year-round sunshine! Locals love to be outside, celebrating everything from food to music, sandcastles to fireworks, and more. Visitors will always have things to do in Clearwater. An example of popular Clearwater events include:
January: Experience the spirit of Greece at the Tarpon Springs Epiphany in nearby Tarpon; head to St. Pete for the Bacon and BBQ Festival.
February: Dunedin International Film Festival, Florida State Fair in Tampa.
March: Spring Training baseball season, PGA Golf Valspar Championship, Tall Ships Festival in Port St. Petersburg.
April: Pier 6 Sugar Sand Festival, where master sand sculptures gather to showcase their creations. Travel to Scotland (sort of) at the Dunedin Highland Games and Festival. Sea turtles nesting season begins and runs through October. Fishermen gather at the oldest kingfish tournament in the United States, the Spring King of the Beach.
May: Experience the thrill of drag racing at Showtime Speedway with scheduled races throughout the year.
June: In the summer and all year long, you can enjoy wine tasting, tours, and live music at Aspirations Winery.
July: First Friday at Tarpon Springs, family-free fun throughout the year. Local recurring events like this are always available in Clearwater and neighboring cities.
August: Join the community during a beach cleanup event to help keep the beaches you enjoy clean!
September: Clearwater Offshore Nationals powerboat races
October: Clearwater Jazz Holiday and Shine Mural Festival
November: Marvel at the annual Holiday Lights in the Garden at the Florida Botanical Gardens in nearby Largo; head to Treasure Island for Sanding Ovations professional sand sculpting event.
December: A host of holiday events like the boat parade, light displays, and more. Gather on the beach and enjoy a firework display to usher in the new year.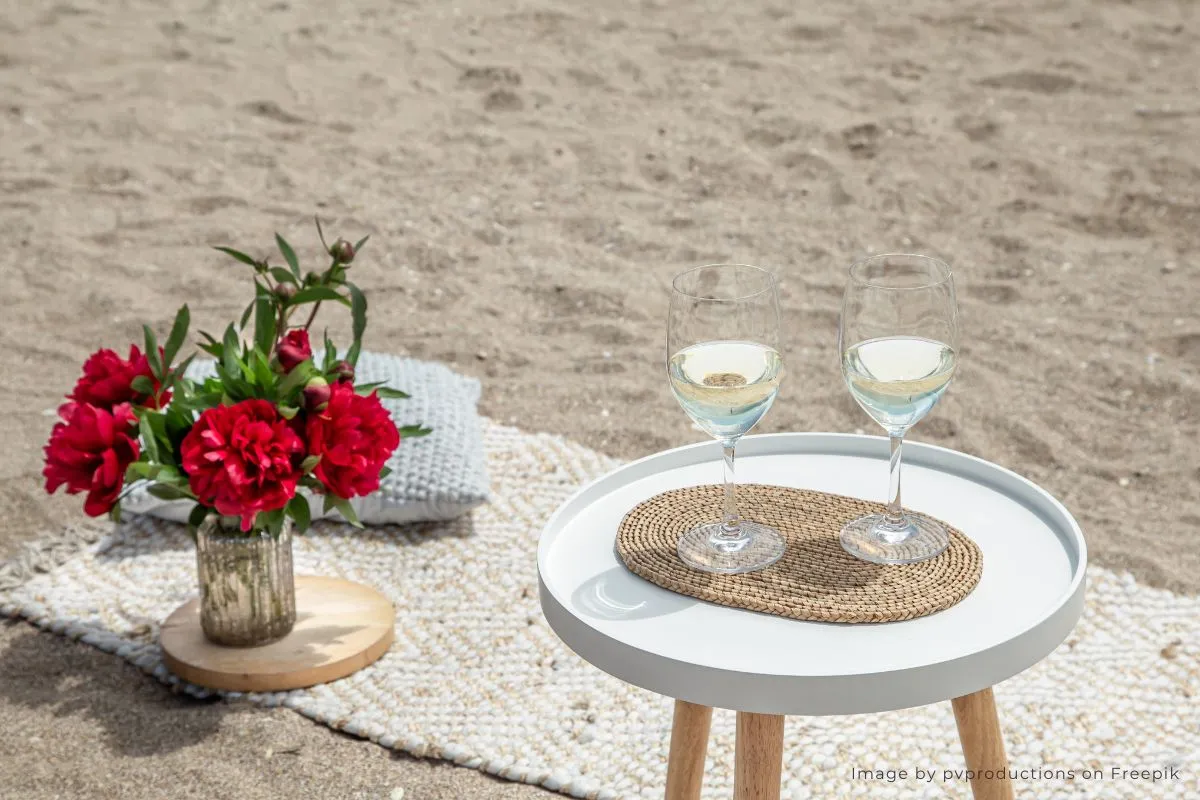 Finding your favorite waterfront dining spot is easy in Clearwater, Florida!
Because you are surrounded by crystal clear Gulf Coast waters and miles of sandy beaches, waterfront dining in Clearwater is a must. From casual to upscale, there are many restaurants to choose from. A partial list of local favorites includes:
Columbia Restaurant: Located in the heart of Clearwater Beach, the Columbia Restaurant offers an elegant dining experience with waterfront views. They serve Spanish and Cuban cuisine, and their outdoor seating area is perfect for enjoying the beautiful Florida weather.
Marina Cantina: This Mexican restaurant on Clearwater Beach offers stunning water views. They have a large outdoor seating area with plenty of shade and a great menu of Mexican favorites.
Frenchy's Rockaway Grill: Another Clearwater Beach staple, Frenchy's Rockaway Grill is known for its fresh seafood and laid-back atmosphere. They have a large outdoor seating area with beach views and a menu that includes everything from fish and chips to sushi.
Rusty's Bistro: If you want to get fancy, head to the Sheraton Sand Key Resort. Rusty's Bistro offers an upscale dining experience with beautiful waterfront views. Their menu features contemporary American cuisine focusing on fresh, locally sourced ingredients.
Jimmy's Fish House & Iguana Bar: On the Dunedin Causeway, Jimmy's Fish House & Iguana Bar offers waterfront dining with stunning views. They have a large outdoor seating area and serve various seafood dishes, including fresh fish, crab cakes, and shrimp.
No matter which restaurant you choose, you're sure to enjoy a great meal with stunning waterfront views in Clearwater, Florida.
Your perfect beach getaway in Clearwater, Florida, home to the top rated beach in the country!
Clearwater Beach continually ranks among the top best beaches, recently landing Number 2 on Dr. Beach's "best of" list. Another favorite just over the bridge is Sand Key Park, which has 95 acres of possibilities. Dogs can enjoy the park area; people enjoy the beach. You may even get a glimpse of colorful canopies floating in the sky as you lounge on the beach's white sand and kite surfers play in the waves.
The sun and sand are waiting for you whenever you choose to visit Clearwater and St. Petersburg! These are just some of the Clearwater beach activities, events, and dining options to add to your list. What are your favorite things to do in Clearwater?