Savannah for history lovers: You don't have to be a history buff to appreciate Savannah's history. Visitors to Savannah immediately notice its beauty, some so much that they dream of living near one of the well-manicured squares and pick out their future next home as they stroll the shaded cobblestone streets of the Landmark Historic District. As you enter a hotel lobby or stop for a drink, the exposed brick and ancient beams remind you that centuries of Savannah residents and visitors passed through those same doors and, with them, the stories of an evolving colony.
It's helpful to get an overview of what's unique about the city and learn a little about its history to help you understand what you're looking at. There are hundreds of years' worth of articles, videos, movies, lectures, and photos about Savannah, so consider this the beginning of an ongoing conversation, as there is no way to cover everything here.
In this article about Savannah for history lovers, we'll share how Savannah got started and their relationship with the Yamacraw tribe, their role in the American Revolution, the Gullah Geechee Heritage, and the War Between the States. We'll point out just a handful of landmarks and direct you to resources where you can learn more. Let's get started!
Wright Square, formerly Court House Square, is named for Gov. Wright, the last of the Royal Governors. It contains a boulder honoring Tomo-Chi-Chi, friend to Gen. Oglethorpe and by some accounts, the co-founder of Savannah.
The Colonists' First Friends and Neighbors
Oglethorpe chose a space east of a peaceful Yamacraw village and trading post for the new colony. With the help of Mary Musgrove, the trader's wife, Oglethorpe made a provisional treaty with the Yamacraws until the surrounding tribes of the Creek Nation could be consulted.
In 1733, after a long voyage across the ocean and little to lose, 125 hope-filled colonists waited in Beaufort, North Carolina, as General James Edward Oglethorpe. leader of the group, and Colonel William Bull, a civil engineer from South Carolina landed at Yamacraw Bluff. They were looking for a site to establish the new colony and liked the bluff location. The first order of business was to meet their soon-to-be new neighbors, a tribe of Creek Indians.
General Oglethorpe began his relationship with Tomo-Chi-Chi, leader of the Yamacraws, with "respect and admiration," according to historical accounts, and an agreement. In a treaty between Oglethorpe, Tomo-Chi–Chi, and the Creek Indian tribes, they defined Savannah's boundaries. The city was named after the river, Sawannos or Savannah, from the native tribe dwelling on the banks of the river, and the state was named after this first colony of Georgia.
The group waiting in South Carolina arrived on February 12, 1733. Everything they needed for a proper town would have to be built by their own hands using the plentiful resources surrounding them, supplies hauled up the steep grade from the river, and the vision of Oglethorpe. He was one of the colony's trustees and the founder of Savannah. It was his vision for the city, the Oglethorpe Plan, that visitors enjoy today.
Early Savannah had two suburbs. Yamacraw, west of Jefferson Street and north of South Broad (now Oglethorpe Avenue), was "red man's territory," and his rights were strictly respected. According to historical documents, there were wooden signs posted on the city's boundaries; one side painted white, indicating white man's territory, and the other side painted red, indicating red man's territory.
*Note – the "red man, white man" language is taken from historical documents and reflects language and definitions from that time.
Historical documents reveal evidence of the amicable relationship between Oglethorpe, the citizens of Savannah, the Yamacraws, and Tomo-Chi-Chi. A news article described the funeral of Tomo-Chi-Chi, who was buried with military honors:
The Oglethorpe bench on Yamacraw Bluff is located across from Moon River Brewing Company showing where Gen. Oglethorpe pitched his tent and made decisions about the new colony. Photo Credit: Instagram @moonriverbrewing
"The Mico of the Yamamcraws and trusted friend of Gen. Oglethorpe died 5th October, 1739, aged 97 years. His is the first funeral procession recorded in the annals of the town. He was buried with military honors. Oglethorpe and William Stephens, then President of the Colony, acted as pallbearers. Oglethorpe commanded that a 'pyramid of stone, dug in the neighborhood, should be erected over his grave.' On 27th April, 1899, there was unveiled a boulder that had been brought from the mountains of North Georgia…and placed in Wright Square, near the supposed spot of the burial of Tomo-Chi-Chi. The Indian Chief was honored like this, even before the founder of the Colony."
Today, there are two monuments in Wright Square. One honors Tomo–Chi-Chi, and the other honors William Washington Gordon, founder of the Central Georgia Railroad. History lovers in Savannah will see that many monuments do not live in the squares named after them!
Savannah and the American Revolution
In Savannah, rebellion against British tyranny and established rules began in a bar.
Tondees Tavern, where the Libery Boys met and talked about the issues of the day, burned down in the Great Savannah Fire of 1796. Image courtesy of Instagram @thecoffeefox
In Savannah, Georgia, rebellion against British tyranny began in a bar. What better place to talk, complain, and conspire than a pub, where the beer flowed and talk was loose? The British tried to ban public gatherings, but the "Liberty Boys," as they would come to be known, gathered at Tondee's Tavern with the aid of the tavern's owner guarding the door, letting only people named on the list inside. What were these young patriots so fired up about? They were rebelling against a system they didn't believe in and The Stamp Act seemed to be the final straw. Difficult times because this disagreement not only pitted the colony against Britain, but often father against son.
They formed themselves into military companies, and the rest is history. The bar burned down in the Great Savannah Fire of 1796. On your next trip to Savannah, stop at The Coffee Fox on Broughton Street, and take notice of the plaque that greets you at the front door. The Liberty Boy's contribution to the American Revolution is commemorated on that plaque. You'll also find a historical marker in town for Jane Cuyler, who hosted meetings for the Liberty Boys at her home. She fled Savannah before being arrested for her participation. Savannah for history lovers is filled with markers as you walk around; take time to read the information for a greater understanding of Savannah's past.
Franklin Square showcases another American Revolution monument. The French assisted the colonies in their fight for freedom from British rule. An all-Black regiment of volunteers from what is now Haiti were recruited and enlisted as part of a contingent of French troops. The Chasseurs-Volontaires de Saint-Domingue were there for the bloodiest battle of the Revolution, and today a monument stands to honor the 545 soldiers who assisted in the battle. After the war, these men went home and were instrumental in ending slavery in their country and forming the first Black government in the western part of the world.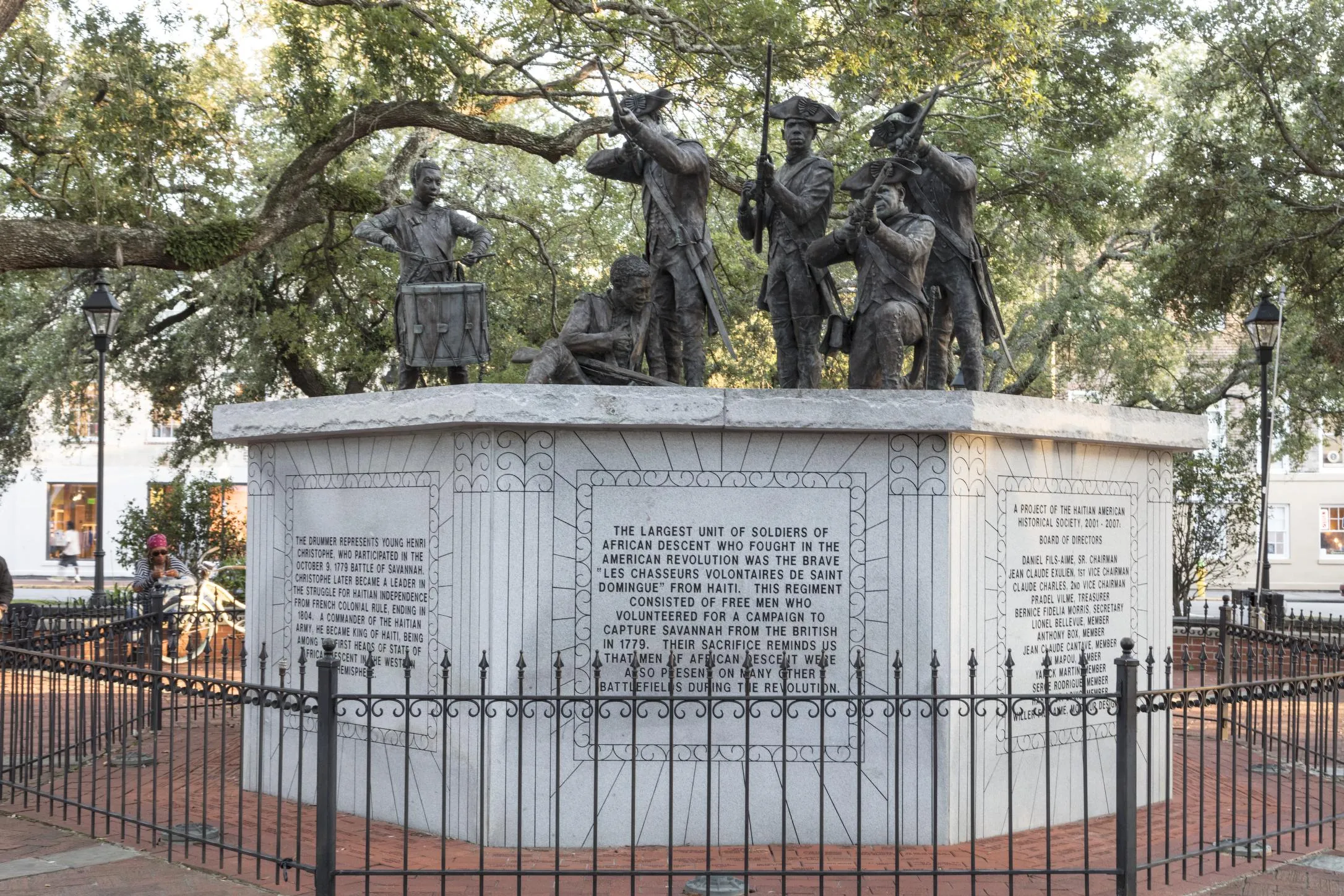 545 volunteer soldiers from what is now Haiti, assisted Savannah during the American Revolution. Image Library of Congress
The Chasseurs-Volontaires de Saint-Domingue were there for the bloodiest battle of the Revolution, and today a monument stands to honor the 545 soldiers who assisted in the battle. After the war, these men went home and were instrumental in ending slavery in their country and forming the first Black government in the western part of the world.
The enslaved brought nothing but memories from their homeland and then built a life in primitive conditions. When lost stories are uncovered and told, we have a fuller understanding of our ancestors, no matter their color, gender, or legal status, and thus a better understanding of who we are and who we can become, individually and as a collective whole.
Savannah's Gullah Geechee Heritage
You can't talk about Savannah without talking about its people of color.
You can't talk about Savannah without talking about its people of color. The practice of slavery is woven throughout the history of the world, including America. The labor, energy, and skills of enslaved people of all colors and races built great cities and societies around the globe. Learning about United States history and slavery is a multi-layered journey of discovery. As more stories are uncovered, we have the opportunity to more fully understand our shared past. From this springs an understanding of why certain practices were put into place, what worked well, what didn't, and what required change.
For example, as a colony, Savannah didn't allow three things: lawyers, Catholics, and slavery. Among Savannah's first settlers were people who were literally released from prison for a fresh opportunity in a faraway land. It seems they understood what it was like to live without freedom.
The practice of slavery was eventually allowed and by that time, Savannah's population was a unique blend of colors. There were enslaved people with strict rules from plantation owners and overseers; others were more lenient. They permitted the enslaved to grow their own food, maintain plots of land for their own use, and sell food and wares in the markets to earn their own money, sometimes using that earned money to buy their freedom. Some slave owners of record were attempting to work within an unjust system, purchasing people to keep families together and trying to match their conscious of what was right to the practice of slavery. Some were free black people living in Savannah alongside the rest of the population which was a mix of free and enslaved residents.
"Everything can be taken from a man but one thing: the last of human freedoms – to choose one's attitude in any given set of circumstances, to choose one's own way. ~Vikter Frankl
Emerging from this period of slavery is a rich culture that is alive today, and history lovers can learn more about it in and around Savannah and the south.
The Gullah Geechee heritage was carried over vast oceans in the hull of ships and then rooted and grown in America. The community holds their ancestors' stories, values, and hope and tells another side of America's rich history. As someone has said, "How can you know where you're going if you don't know where you come from?"
Gullah is the language. Geechee is the people.
Some excellent resources to learn about Savannah's Gullah Geechee heritage come from authorities in that field. I'll list two videos you can watch; however, some of the takeaways are:
Gullah is a mix of African-American and Creole languages developed to keep the plantation owners from knowing what the enslaved were saying. It allowed them to form their own community and keep their culture alive.
Their beliefs include a simple lifestyle where you live by what you need versus what you want, understanding that manners can take you where money and education cannot, and cherishing what our ancestors left.
That sounds like good advice!
They say words have consequences. The Gullah Storyteller, Ms. White, refers to her people as her "ancestors." With her choice of words, she humanizes the enslaved people who lived in Savannah, throughout the south, and parts of the United States. Slavery dictated the rules they lived within for a time; however, they were people: a mother, child, aunt, uncle, brother, sister, grandfather, and grandmother, who had hopes, dreams, and a desire to learn and be free.
The War Between the States
Why did the States go to war? What turned neighbor against neighbor?
Fort Pulaski is named after Casimir Polaski, a Polish soldier recruited to fight during the American Revolution. Savannah also named a square and erected a monument in honor of the soldier's bravery. Recently, Pulaski's remains and DNA were examined and some believe the war hero was intersex.
The American Civil War is sometimes called the "War Between the States" or the "War of Secession" in the South. Why did the States go to war? What turned neighbor against neighbor?
The answer to these questions often depends on who is telling the story. Was it about freedom, slavery, rights, property, power, economics, or politics? As with many significant historical events, the answer is often "yes" to all or most of the above.
To our modern minds, the idea of ownership of another human is foreign. To understand more about the arguments for and against the institution of slavery in colonial times, here are two resources to get an overview:
Arguments that defended the practice of slavery;
Some key Civil War events in Savannah are:
Savannah was the key to the Georgia coast, closely watched by Federal forces.

The ordinance of secession was framed in Savannah.

The flag of the Confederate States was first hoisted in Savannah, Georgia.

Georgia seceded on January 19, 1861.

The Savannah port was closed to commerce from 1861 to 1865.

The capture of Fort Pulaski on April 10, 1862.

The reduction of Fort McAllister on December 12, 1864.

The arrival of Union forces on December 11, 1864, under the leadership of General William T. Sherman on his well-documented "March to the Sea" with 60,000 infantry, 6000 calvary, numerous batteries, and siege guns. Savannah had only 10,000 men to defend the city.
The capture of Fort McAllister was the conquest of Savannah. The city was evacuated on December 20, 1864, and surrendered the next day. It's reported that General Sherman found the city so beautiful that unlike other Georgia cities, he refused to burn Savannah down. Sherman sent word to President Lincoln, "gifting" him the city of Savannah for Christmas.
***
The fact that Savannah was spared the flames of Sherman when he arrived on his March to the Sea, and then occupied the city for a while, suggests there are many Civil War related stories, monuments, and museums to uncover. Here are some places to start your journey:
Webb Military Museum
This is a private collection of military artifacts that gets high marks from visitors. Like history itself, the owner, Gary Webb, strives to tell the stories, "This museum is all about military history on a personal level and is a collection of military artifacts that I started collecting over 40 years ago. We own many items but the select items we feature in this museum are ones with a story to tell. When our visitors leave the museum, it is our hope that they will have a new found attachment to the individuals who wore the uniforms, hats and medals." It's located near the Colonial Park Cemetery.
Location: 411 E. York Street – Savannah, GA 31401
What's Bad for Savannah, Was Good for Atlanta
The practical matters of war: salt, shoes, borrowed uniforms from the "other side" and commerce needs of the war. Learn more about Georgia and Savannah Civil War history.
Wormsloe State Historic Site
You've probably seen the much-photographed 1.5 mile avenue sheltered by moss-covered live oaks leading to Wormsloe, the former estate of Noble Jones.
Wormsloe was an important outpost where fortifications were constructed to prevent Spaniards from using the river to attack Savannah.
Jones arrived in Savannah in 1733 with James Oglethorpe. During his lifetime, he went from an occupation as a carpenter to the colony's doctor, constable, Indian agent, surveyor, and Royal Councilor. He died in 1775, before the American Revolution, but his estate stayed with his family until Georgia acquired it and turned it into a state park.
The history of Wormsloe dates back to the early settlement of the Isle of Hope around 1737. At the time, it was an important outpost where fortifications were constructed to prevent Spaniards from using the river to attack Savannah.
Today, visitors (and their leashed pups) can walk a 7-mile nature trail that will bring you to the edge of Moon River, named for Johnny Mercer's hit song. You'll find a museum, a theater that shows a short film about the site and Georgia's beginnings, tabby ruins (the oldest standing walls in the Savannah area), gravesites, wildlife viewing, and a gift shop. There is an interpretive trail, and people dressed in 18th-century clothing are stationed along the path during special events, providing a glimpse into colonial life.
Gardeners will enjoy the experimental research gardens where they cultivate heirlooms and the history of low country plants. An interesting story about Sarah Ross, the organic farmer from Social Roots who worked one of the Wormsloe plots, was written in the Atlanta-Journal Constitution; read it here.
Savannah History: Hundreds of Years of Change
The original cathedral burnt down in the Great Savannah fire and was quickly rebuilt
What history can tell us is that from the beginning, Savannah, like the New World, was constantly changing:
For example, the original trustees who secured the charter for Georgia from King George II (whom the colony and state are named after) intended for the settlement to be a producer of silk. Silkworms only eat mulberry leaves. That is why they planted so many Mulberry trees in Savannah. However, the silk trade never took off, and rice, cotton, and lumber took their place. These industries require a lot of human labor. For many land owners, low-cost labor through slavery became the answer.
When Oglethorpe founded Savannah, he restricted three things: lawyers, Catholics, and slaves. However, things change. You can see proof of that by the 500+ listings for lawyers in Savannah currently found with a quick search online, the beautiful and commanding architecture of the Cathedral Basilica of St. John the Baptist near Lafayette Square, and the history of the slave trade in Savannah.
Outside Cathedral Basilica of St. John the Baptist, you'll see a statue of a nun with some children. According to the plaque on the statue, the church secretly taught enslaved people at the risk of punishment and death. It wasn't just nuns, either. Stories have emerged telling of teachers who would have laundry delivered as a cover to take in enslaved children and teach them to read. Within an unjust system, people found a way to do good.
Not all of the original settlers stayed, and others who heard about Oglethorpe's vision for the colony followed, including one of the largest groups of Jewish settlers. According to the Breman Museum, they arrived in Savannah aboard the ship William and Sarah in 1733. The Savannah Jewish Archives represent some of the oldest Jewish history in the South, with material dating back to the 1750s.
Many of Savannah's stories are found in the graveyards and in authentic southern style, you'll find some of the most beautiful art in her cemeteries. While the promise of a new home was exciting, building that promise in what could be miserable conditions caused many to die before seeing the fruits of their labor. There were health events that took entire communities, scandals and scuttles that ended tragically, and what remains are the tales, ghost stories, and tours we can enjoy today during a trip to Savannah.
Savannah History Travels Through Time
Savannah historic homes are just one attraction for Savannah for history lovers. It's easy to walk the historic district and imagine living in one of these beautiful homes with a storied past.
Understanding and appreciating the struggles and triumphs of a place, its history, and its people allows you to enjoy the city today, knowing it can continue to evolve and flourish. Savannah's history lives in its architecture, art, and culture. At every turn, there is something new to discover. This city, once called a beautiful lady with a dirty face by Lady Astor, seems destined to put its best foot forward with the utmost Southern grace.
Because Savannah has been so intentional with retaining the historical buildings and sense of community born with the original design of the squares, you can close your eyes and step back in time.
Hold a tight grip on the handrails and carefully navigate the steep steps down to River Street, and you can imagine what it was like to haul everything up that same steep grade to build the city on Yamacraw Bluff. Sit in a pub with original exposed brick and enjoy a beer knowing that someone did the same thing a few hundred years ago. And when you experience culinary dishes from around the world served at Savannah restaurants, enjoy the hospitality of its hotels and other lodgings, and meet the small business owners, residents, and students, you'll see the legacy of all of Savannah's ancestors is alive and well.
Many Savannah city tours share stories about those ancestors, the ones we read about in history books and those that are being uncovered and told as we continue exploring all the voices that make up our history. Even when you're not a "tour" sort of person, the stories shared by the guides or on an audio tour will help bring history and Savannah alive.
History is like that and Savannah for history lovers is filled with opportunities to learn! It can help you navigate how everything and everyone fits together. Every person's understanding and takeaways will differ, and you'll often uncover more questions than definitive answers. Sometimes, you realize how alike we are enough to appreciate and celebrate our differences.
Savannah trip ideas from a local! Go beyond the must-do tourist spots at this historic Georgia riverfront city, to the unforgettable places locals love.
What is Savannah known for? Southern hospitality, vibrant city life, and THIS. Read about the intentional plan that makes Savannah a place to remember.
Where's Punta Gorda, Florida? Discover a fishing & railroad town turned best FL small town with a story history travelers love.