In a world where people always seem to be in a hurry, Savannah invites you to take your time, meander, and admire the world around you. The city captures your heart and soul. As you wander through the Historic District's cobblestone streets, gaze out over the sparkling water of the Savannah River, and explore the beauty of twenty-two parks that are the foundation of this community, you'll wonder why more American cities are not designed like this. This is Savannah…
What to Do in Savannah:
Itinerary Ideas and More
When you visit Savannah, you'll be tempted to start planning your next trip right away because you'll quickly realize how much you'll miss. However, be sure to enjoy what you have time to see now and take in the south's jewel at a slow, southern pace. You can cover a lot in a weekend getaway to Savannah. And, to help you remember your time in Savannah, check out our Savannah Guided Journal. It's a combination of a Destination Guide, Trip Planner, and Journal, your perfect companion when you visit Savannah!
In this post, we share:
Savannah: First Impressions
Getting to Savannah
Where to Stay in Savannah
Best Time to Visit Savannah
Overview of Savannah by Season
How Many Days Do you Need to Explore Savannah?
What to Bring on a Trip to Savannah
What Should You Know About Savannah Before you Go?
Savannah History is All Around You (to add some context to the Place)
Getting the Lay of the Land
Explore Savannah's Districts
Savannah's Iconic Squares
Where to Eat and Drink in Savannah
Savannah Miseums and Nature Centers
Day Trips from Savannah
Other Articles about Where to Eat, Play, and Enjoy Savannah
What you'll want to see first really depends on your interests. History and Architecture lovers will be in their element here. City planners and gardeners will find plenty of inspiration. Home cooks and chefs will boil over with culinary options. And, ghostbusters and paranormal enthusiasts will go wild in one of America's most haunted cities. In Savannah, you can choose your own adventure!
For those of you who are ready to get some itinerary ideas for Savannah, I've included a few below and you can jump right to them.
So, let's get started!
Savannah: First Impressions
Jumping off the ferry that carried me the short distance across the Savannah River to begin a day trip to Savannah, I remembered an episode of Fixer Upper where the homeowner was contemplating some kitchen upgrades. She knew there were functional things needed in the kitchen but also had ideas of how she wanted it to look. She asked Joanna Gaines, the show's host, what she would do when thinking about form and function in her designs. Joanna's answer: I always go for pretty first.
That's kind of what a visitor to Savannah will feel. Whether it's your first time in the historic city, or your hundredth, you will notice that the city is pretty…intentionally pretty. Built into the very fabric of the city is aesthetics and design and as you walk the streets you'll agree that they went for pretty first!
Show stopping architectural masterpieces line the streets, gardens adorned with fountains and monuments spring up in the green space, towering trees drip with Spanish moss, locals and visitors gather along sidewalk cafes and coffee shops, and restaurants and pubs tempt you with thoughtfully designed interiors and menus that offer culinary options from around the world.
You'll find yourself asking questions like: What sort of people had the foresight to create such a charming little city perched on a bluff, designed with nature and community as its cornerstones?
How has this city, offered to President Abraham Lincoln as a Christmas gift by General Sherman near the end of the War Between the States in 1864, and once referred to as 'a beautiful woman with a dirty face' by Lady Astor in 1946, managed to survive a rich and storied past, only to emerge more charming, more beautiful, and more captivating?
Is it because of its history and contributions from all the people whether native, free, indebted, and enslaved, who helped build the Hostess City of the South? Perhaps….
How to Get to Savannah
Savannah is in the Southeast United States
Located in Chatham County, Georgia which is close
to the Atlantic Ocean Coastline. The nearest beach is
Tybee Island which is about 18 miles from downtown
Savannah, and the nearest large body of water is the
Savannah River which the city is named after.
You can reach Savannah by air, car, boat, and train,
with air and car being the most popular transportation options.
Savannah has a reputation for ghosts and your first encounter with ghosts may be upon your arrival at Savannah/Hilton Head International Airport.
Our Uber driver shared that there are bodies buried under one of the runways. According to her, the land used to be privately owned. When the airport purchased the land, they decided to leave the bodies at rest rather than dig them up. I'm not sure how peaceful that is for them and because we haven't heard of unusual activity with planes arriving and departing, perhaps they are happy with easy access to world travel in the life beyond!
Like the city itself, Savannah's airport is pretty. It has its own mini square complete with park benches and trees. The visitor center is located in the heart of baggage claim and is open from 8:30 am – 11:00 pm. You can get information about flights and the city, ground transportation, mail a package, buy a lotto ticket, get copies or send a fax. SAV airport has been named the #1 Best Domestic Airport in Travel + Leisure's World's Best Awards for 2022, and was voted #1 airport in the United States for the third year in a row by the Conde Nast Traveler reader's choice awards.
Savannah Georgia Airport Code: SAV
| | |
| --- | --- |
| Avelo Airlines | JetBlue |
| Allegiant | Silver Airways |
| American Airlines | Southwest |
| Breeze | Sun Country Airlines |
| Delta | United Airlines |
| Frontier Airlines | |
How to Get to Savanah by Car
Savannah is well-connected by road to other major cities in the Southeast.
Popular routes and estimated driving times include:
Asheville, NC (297 miles, 5.5 miles)
Atlanta, GA (248 miles, 3.75 hrs)
Charleston, SC (108 miles, 2hrs)
Charlotte, NC (252 miles, 4 hrs)
Louisville, KY (668 miles, 10 hrs)
Montgomery, AL (334 miles, 5.5 hrs)
Nashville, TN (496 miles, 7.5 hrs)
New York, NY (806 miles, 12 hrs)
Raleigh, NC (324 miles, 5 hrs)
Sarasota, FL (388 miles, 6 hrs)
St. Augustine, FL (175 miles, 3 hrs)
Tampa, FL (335 miles, 5 hrs)
Getting to Savannah by Boat
The Savannah River offers boaters an alternative for getting to historic city
Yes, you can get to Savannah by water and as one boating expert has said, "To truly experience the Low Country, first you must boat it." The Westin Savannah Harbor Golf Resort & Spa on the Savannah River is one of the places available for docking. Check out this BoatUS article for more information about boating to Savannah, and this article will help you explore other day trip destinations in and around Savannah on your boat.
There is a Savannah Day Cruise offered from Hilton Head Island that takes about 1hr 45min and allows four hours in Savannah. The cost for adults as of this writing is around $80, children are $35, and it runs just a few days a week. Check their website for the most recent information.
Getting to Savannah by Train
Sometimes, traveling by train is the solution
Amtrak has service to Savannah from various cities throughout the United States. It's about a 10-minute drive from the station to historic downtown, located at 2611 Seaboard Coastline Drive Savannah, GA 31401. There may be taxis available; however, it's best to reserve something so you're not kept waiting. Uber can be reserved.
Online reviews are mostly positive, noting that the amenities at the station are few, there is no wifi, and vending machines are the only food options. Patrons felt safe in the well-lit and clean facilities. Train schedules are not ideal for all travelers, so check the Amtrak's trip planner to find out if riding the rails is for you:
Where to Stay in Savannah
Find you best lodging option
From quaint B&B's to fully equipped vacation rentals
to your best budget and luxury options,
Savannah is certain to have the
perfect lodging for your vacation getaway…
From luxury resorts to luxury hotels, Savannah has many options to choose from.
Vacation properties are a popular option because you feel like you are part of the neighborhood.
Deals come in all sizes and finding the best one for your trip is a breeze.
Best Time to Visit Savannah
As with many travel destinations, the best time to visit is…now!
Your definition of "best" depends on your travel lifestyle and budget. You may prefer cooler months vs. humid summer days or want to see Savannah in spring's full bloom. Weather varies each season and winters tend to be mild so it's a great time to visit Savannah.
The number of rain days noted online can be a bit deceiving because this is the south and often, if you don't like the weather all you have to do is sit a spell, have a glass of sweet tea, and it will pass. Storms can roll through quickly and an afternoon sprinkling during the most humid months actually provides much needed relief as it helps dissipate some of that humidity. As the seasons change, like summer to fall, you can have a beautiful spring-like day, followed by a colder, pack me a parka, experience, only to be followed up by an evening perfect for sitting on one of Savannah's many rooftop bars/restaurants.
Budget travelers can plan to avoid high season (and the highest lodging prices), while luxury travelers or those with a more flexible budget can plan a trip around the best golf season or popular events.
Does Savannah Georgia get snow? Savannah is a popular winter destination because it rarely snows. Winter temperatures can be cool to cold, but snow is not a regular occurrence. The average snowfall is zero; however, Mother Nature can give us a surprise every now and again. In Savannah, a surprising snowfall would be enough to be pretty, but not stay so long as to wear out its welcome.
No matter when you go, here are some weather ranges and events for each month:
Savannah Georgia Climate By Month and Major Events
Month
Temperature Range High/Low *F
Rain Days  *average
Popular Events
January
61° / 41°
6 days
3.95 inches
New Year's Eve Fireworks on Tybee Island, Enmarket Savannah Hockey, City Market New Year's Eve Block Party
February
64° / 45°
5 days
2.92 inches
Savannah Book Festival, Savannah Black Heritage Festival
March – one of the busier times of the year to visit Savannah
70° / 50°
6 days
3.64 inches
St. Patrick's Day Citywide Celebration, Savannah Music Festival, Savannah Golf Championship
April
77° / 57°
5 days
3.32 inches
NOGS Tour of Hidden Gardens, SCAD Sidewalk Arts Festival
May
84° / 65°
6 days
3.61 inches
River Street Seafood Festival, Gray's Reef Expo
June – One of the busier times of the year to visit Savannah
90° / 72°
9 days
5.49 inches
Forsyth Park Farmers Market, Live music at various spots in the city
July – One of the busiest times of year to visit Savannah
92° / 74°
9 days
6.04 inches
4th of July Celebrations-Plant Riverside District, Tybee Island
August – tends to be the wettest month
90° / 74°
10 days
7.20 inches
Savannah VOICE Festival
September
86° / 70°
7 days
5.08 inches
Savannah Jazz Festival
October
79° / 60°
4 days
3.12 inches
SCAD Savannah Film Festival, Blue Brews BBQ & Bourbon, Oktoberfest, Savannah Film Festival
November – tends to be the driest month
70° / 49°
4 days
2.40 inches
Savannah Food and Wine Festival (confirm dates)
December
64° / 45°
6 days
2.81 inches
Hanukkah in Forsyth Park, Enmarket Savannah Bridge Run
Overview of Travel to Savannah By Season
Spring (March through May)
Spring is the second busiest month for travel to Savannah. Spring blooms and added color add to the quaint, old-time feel of this beautiful city of trees, gardens, and parks. Temperatures are warm and on days when humidity is high, they will feel even warmer than what the thermometer says. The later into the season, the higher the humidity. To prepare for that, be sure to stay hydrated and cool, plan to be most active in the cooler morning and late afternoon hours, and if necessary, duck inside someplace cool for a rest and cool drink during the late morning, early afternoon hours.
Summer (June through August)
You're going to sweat. There's just no way around that one! However, you can rest easy knowing that everyone who is experiencing beautiful Savannah in the hot, humid summer weather is experiencing the same thing. It's not you, it's Savannah!. Summer is the busiest season, so you may be sharing the City of Hospitality with lots of folks. Just take it easy, slow down, and enjoy everything Savannah has to offer.
Fall (September through November)
These are the slower months for tourism; however, may be some of the best times to visit Savannah. The weather is cooler and you will experience surprising days of spring-like weather followed by the complete opposite. It all depends on the mood of Mother Nature as the season transitions from summer to fall.
This red phone booth is a Savannah landmark
Winter (December through February)
The average high is around 64 degrees Fahrenheit. Not too cold to be unbearable and not too warm to be suffocating. This is a slower season for tourism and while you won't get all the colors enjoyed in the spring, you can still enjoy Southern hospitality that will warm your heart, holiday decorations that only Georgia's first city can provide, and plenty of good eats to keep your belly satisfied.
How Many Days Do You Need in Savannah?
Every person travels differently, so how many days to spend in Savannah varies. If you have the time, you can take in the city at a leisurely pace and see the sites in and around the downtown area over a week; however, you can certainly enjoy the city in as little as 24-48 hours. The key for an enjoyable trip to Savannah is to avoid trying to cram everything in at the expense of really enjoying what you are doing, seeing, eating, and drinking. That's one of the reasons we created the Savannah Guided Travel Journal, so you can be more intentional about your time in this beautiful city.
Slow down, this city has been around for hundreds of years and will likely be here for hundreds more. While some things remain the same, each time you return to see more and learn more, there will certainly be a new suprise waiting for you to enjoy.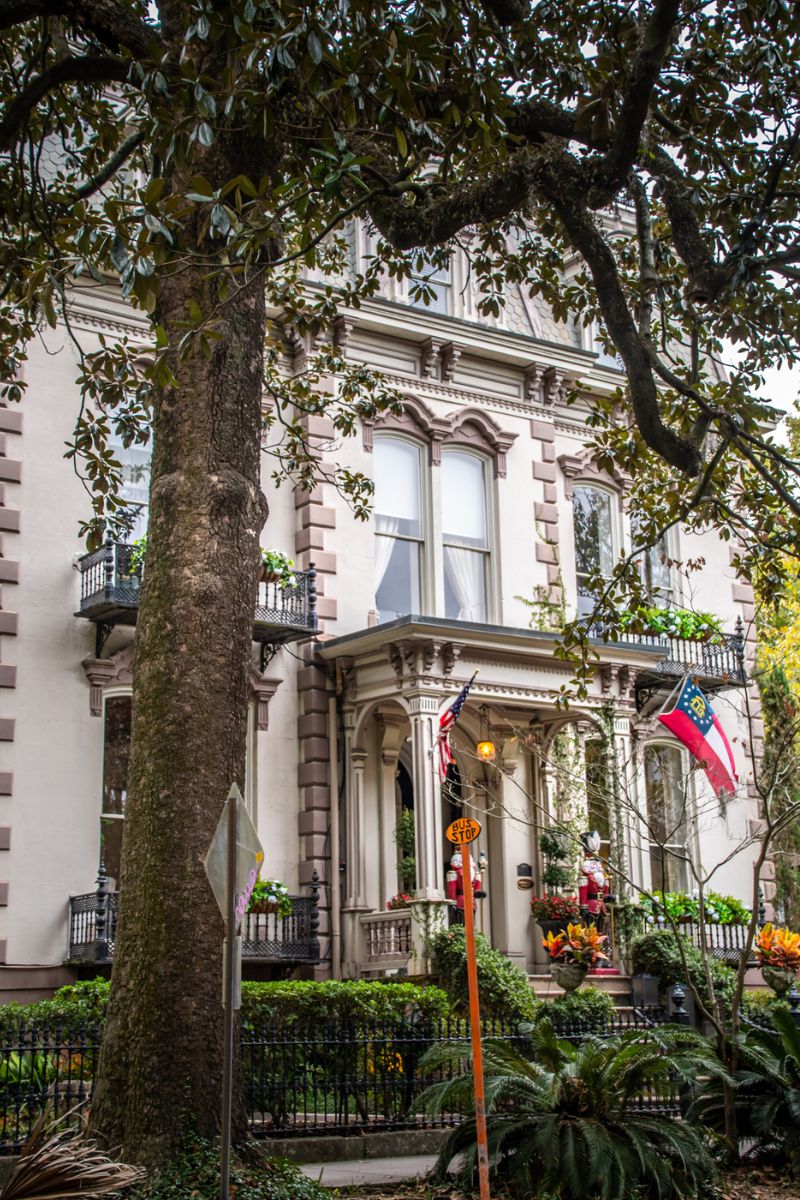 History lives in Savannah's architecture
What to Bring
Things to bring on a trip to Savannah
What you'll bring to Savannah for your getaway depends on what season you'll be there, what you plan to do, and if you're traveling solo, with a group, with kids, or a romantic partner. I tend to pack on the lighter side so you may bring more than I typically do; however, you'll be in a well-appointed city so whatever you forget at home, or find that you need once you arrive, can easily be purchased in Savannah.
Comfortable walking shoes. The city is pedestrian-friendly and parts have cobblestone or steep stairs so you'll want to be comfortable. If you're not walking, there are other wheeled options like the city-wide trolley, buses, scooter, and bicycle rentals.
Sunscreen. This is always a good idea! Even though most areas of the city are shaded by centuries-old trees, you will have sun exposure. To prevent a sunburn that would ruin your trip, slather it on!
Bug spray. Mosquitoes love Savannah too! Some people are blessed with natural protection, others need a little help. I've typically visited in the fall and the little critters were not a problem; however, if you're in the city during hotter months, you may find yourself at the store to pick up some mosquito repellant.
Sunhat. You'll appreciate this in the spring and summer months especially.
Light jacket or sweater. The weather can vary throughout the day, nights can cool down, and even in the summer you may want to cover up when you're in an air-conditioned space.
Water bottle. While you can pick up bottled water at your hotel or a local store, consider bringing a metal or glass reusable water bottle to carry with you.
Duffle bag. I've developed the habit of packing a small, empty, nylon gym-type duffel bag in my carryon. It takes very little space and is very convenient to use if you purchase items during your trip to bring home with you. Some airlines are becoming more strict with what they'll allow as a carry-on so when two is your limit, you will have options with the additional luggage.
Camera. For most people, a phone works perfectly! Or, you can get fancy with a DSLR of your choice. Be sure your batteries are charged and you have plenty of memory on your disc.
Guided Travel Journal. When you want a different experience on your travels, our guided travel journal can help you see the city with intention, give you the opportunity to record your thoughts and favorite activities and places, and then look back on it to remember your vacation in Savannah for years to come. Get your journal here.
One more thing: Bring your sense of curiosity and adventure!
What Should You Know About Savannah
Before you go on your Savannah Getaway
Savannah History is All Around  You
Maybe you're the same, but whenever I travel to a place that's new to me, I find that it's helpful to get an overview of what's unique about it, get the lay of the land, and learn a little about the history to help understand what you're looking at.
There is no way I could cover everything that's special about Savannah in this space (there are literally hundreds of years of articles, videos, movies, lectures, and photos), so consider this the beginning of an ongoing conversation. For a deep dive into what interests you most, there are lots of Savannah Tours available!
Savannah may be one of the first examples of Urban Planning where fostering a sense of community and intentional greenspaces were at the heart of its design. The Oglethorpe Plan is what you see today as you explore the oldest parts of Savannah. Learn more about the plan and what is Savannah known for.
In 1733, General Oglethope and Colonel William Bull of South Carolina, landed at Yamacraw Bluff and chose the site for the town, naming it Savannah after the river. That was the beginning of modern settlement for this Georgia Colony and for hundreds of years it has been challenged by time, weather, conflict, disease, growth, and decay. It is rich because of its history and diversity. Not without its problems, it continues to show its innate desire to remain something like the vision of its founding members, blending old with new, and celebrating the heritage of all its citizens, including Savannah's Hidden History.
Click here to learn more about Savannah for History Lovers including relationships with the Native peoples, American Revolution, Gullah Geechee Heritage and the War Between the States. 
The African American monument is one example of how Savannah is revealing the stories and contributions of all of its citizens
Getting the Lay of the Land
I'm adding this section because I'm what I like  to call "directionally challenged." Map navigation doesn't come naturally for me (I often read them upside down), and I believe GPS is one of the best technological tools of modern times. Still, I like building my map-reading  and navigating skills because it's important when traveling. Sometimes you don't have a good connection to access GPS. I get to my desired  destinations (maybe not without some delightful and not-so-delightful detours) because I practice and look for landmarks to ground myself when traveling. My husband is the exact opposite, he can look at a map once and seems to magically know a city he's never been to before. It's admirable!
Tip:If you have an iphone, a handy tool is the phone's mapping app. Add in all the places you want to go to in advance and then put them in a folder labeled with the name of your location (in this case, Savannah). Then, when you are there you simply pull up that folder and all the locations you mapped are all in the same place!
This aerial garden view shows order and structure, just like the layout of historic Savannah's streets  ©Chris Ryba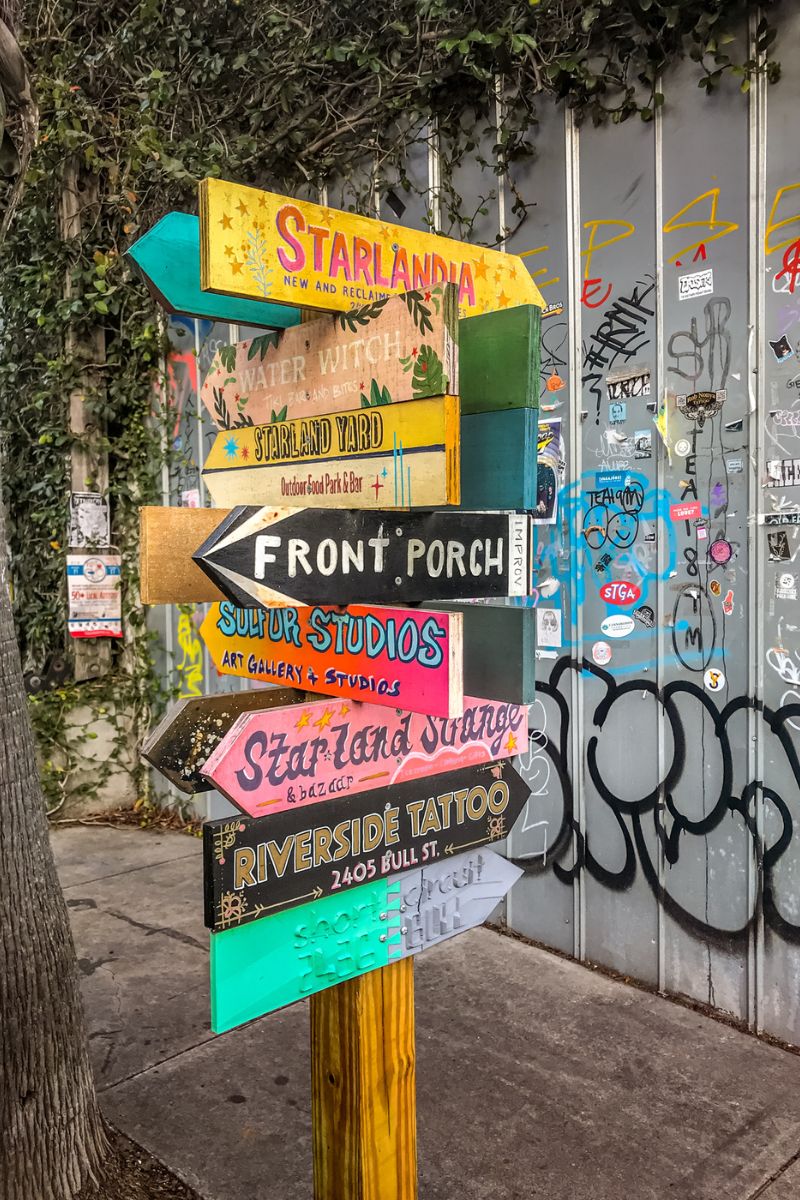 Signpost in the Starland District shows the personality of the neighborhood
Savannah is one of the oldest, if not the oldest, examples of a planned city in the United States. The Historic District is laid out like a grid so it's easy to navigate, like a tetris game where everything is a square or rectangle.
If you're walking toward the water, the Savannah River, you're going north; if you're walking away from the water, you're going south.
Bull Street is like a main artery running down the middle, north to south, that brings you from the waterfront to Forsyth Park. Along the way you'll pass through five of Savannah's squares. It's the dividing line where the streets crossing it change from East to West. The Plant Riverside District on the water is to the west, and the Colonial Park Cemetery closer to Oglethorpe is to the east.
Prominent cross streets running east to west (named in order starting from the waterfront) are as follows:
River Street (east and west): You'll find beautiful brick buildings that have stood the test of time, home to restaurants and shops. Plant Riverside District, the African American Monument, some very steep stairs and cobblestone streets, Cotton Exchange, City Hall, visitor center, and Ferry docks.
Bay Street (east and west): This is the next street up from River Street and has more car traffic and traffic signals. Businesses and hotels line the street.
Broughton (east and west): Shopping hub, restaurants, iconic Leopold ice cream shop and much more.
Oglethorpe (east and west): Historic homes and entrance to the Colonial Park Cemetery.
Jones Street (east and west): Often referred to as one of the prettiest streets, located close to the north side of Forsyth Park.
Savannah's Districts
Each of Savannah's districts have their own personality so which one is "the best" neighborhood or district really depends on you and what you like to experience when you travel. When you're visiting for a short period of time, the four districts noted below are most likely where you will explore. For longer trips, or ideas for day trips from Savannah to other areas (like Tybee Island and the beach), you'll get the chance to see even more of the area. Wherever you wander, you're sure to enjoy a trip to Savannah!
When viewed from above, Savannah's squares and districts reveal their distinct patterns. ©Chris Ryba
Fountains and monuments are discovered in the Historic Districts squares
Historic Landmark District
This is where Savannah started. General James Oglethorpe chose Yamacraw Bluff as the site of a new colony and named it after the river. He pitched a tent under the trees and directed a rag-tag group of colonists to build a unique city designed with community in mind. Today, the "Oglethorpe Plan." as it's known., attracts thousands of visitors every year who enjoy 22 park squares, year-round events, gardens and public art, local shops, restaurants, cafe's and pubs, and walkable neighborhoods where history lives in the architecture and stories that span from the late 1700's to today. You can experience something new each time you return to Savannah.
Victorian District
Home to the much-loved and much-photographed fountain in Forsyth Park, the Victorian District is Savannah's first suburb. Visitors and locals enjoy walking 50 blocks, that are just south of the Historic District, lined with Victorian styled homes that are cute as a button. You'll find yourself dreaming what life would be like in one of these charming homes. If you rent a bike to get around Savannah, it will be near here. Want to try something new? You can learn how to blow hot glass, or make reservations to dine in an authentic 1900's Victorian mansion at Elizabeth on 37th.
Forsyth Park's fountain is at the heart of it all
Colorful murals can be found around the Starland District
Starland District
The Starland District is known for its eclectic mix of art galleries, boutique shops, restaurants, and bars. The district has a unique character and charm that draws both locals and visitors to the area. It got its start in the late 19th century as a residential neighborhood for Savannah's burgeoning middle class, Over time, it fell into decline until two local students saw the potential of the neighborhood. They started buying up properties and renovating them into artist studios and galleries which attracted other artists and creatives. Today, the Starland District is a thriving community with galleries, craft breweries, restaurants, shops, the Starland Yard, and more.
Moon River District
When you want to experience nature, celebrate history, and get a taste of Savannah's Lowcountry, the Moon District is where to go. It's 20 minutes from downtown and stretches along the Moon and Skidaway Rivers. You can hike, learn about sea creatures, and discover the rich heritage of the Gullah-Geechee culture. Some highlights are Skidaway Island State Park, Isle of Hope, University of Georgia's Aquarium, Wormsloe Historic Site, the 26,000-acre Ossabaw Island Heritage Preserve, Sandfly, Bethesda Academy, and Pin Point Heritage Museum
This canopy of trees is a favorite photo opp at Wormsloe Plantation
Savannah's Iconic Squares
Within minutes of exploring Savannah's National Historic Landmark District, it's easy to see there's something remarkably different about the urban landscape in this charming southern town. Every few blocks, locals and visitors alike stumble upon beautifully landscaped green spaces, complete with monuments honoring Georgia's early history, benches tucked behind blooming azalea bushes and the shade of towering live oaks.
Over the years, each square has taken on a personality of its own. Within Chippewa square stands a nine-foot bronze statue of Oglethorpe, resembling a Captain Morgan-like figure. At the north end of the same square sat the bench where Forrest Gump spent hours recounting this life story. Ironically, the squares are rarely named for the statues within them. Oglethorpe has his own named square, but it sits a few blocks northeast of his statue in Chippewa.
During the annual St. Patty's Day parade, there is no place better than Oglethorpe Square to experience all the festivities. Pulaski Square is a favorite place to set out a blanket and read a book, because you're away from tourist foot traffic. Within Troup Square, you find an impressive Greek-inspired Armillary Sphere used by ancient astronomers to show the equinoxes and solstices.
Despite the charm of these squares, there are plenty of oddities as well. When the weather is good, the locally famous leashed tortoise, Robert, can be seen walking through Lafayette Square, just outside the famous Cathedral of St. John the Baptist. Crawford Square has a basketball court where people shoot hoops well into the evening.
The Casimir Pulaski Monument, or Pulaski Monument, is found in Monterey Square
Savannah's Ellis Square, nearest the City Market, is one of the busiest all year long. Today, kids play in the water features during hot Georgia summer days, and a statue of Savannahian songwriter Johnny Mercer adorns the west end. However, this wasn't always the case. After the expiration of a 50-year land lease, the site's existing parking garage was demolished in the early 2000s, later giving way to the redevelopment and restoration of Ellis Square in 2010. In a move heralded by historic preservationists and urbanists everywhere, Savannah demonstrated it is possible to return their city to its beautiful past.
Did you know, our Guided Travel Journal and Destination Guide have a list of all the squares that you can check off as you visit them and space to write down your thoughts and notes about each? Get the guide here…
Where to Eat and Drink
Savannah's culinary scene is a dynamic and evolving blend of Southern traditions, international flavors, and a commitment to local sourcing.
Whether you're a food enthusiast, a history lover, or someone looking for a unique dining experience, Savannah has something to offer. Many restaurants have been open for years and are Savannah staples, like The Lady and Sons and the The Olde Pink House (tip, if reservations are not available, try the bar in the basement); however, be ready to explore what's new because Savannah's innovative chefs are constantly using their creativity to create masterpieces on the plate for you to enjoy. I like to ask the locals where they eat or what new restaurant they would recommend. That's how I stumbled upon The Vault in the Starland District and the Stone & Webster Chop House at JW Marriott Savannah Plant Riverside District.
Where to eat in Savannah may become your favorite city adventure. Here are some of the top dining options in Savannah:
Southern Cuisine: Savannah is a great place to indulge in authentic Southern cuisine. The sweet tea is just as sweet as Southern hospitality, and the pecan pie will have you asking for the recipe. You'll find classic dishes like fried chicken, shrimp and grits, collard greens, cornbread, and biscuits. Many restaurants in the city focus on preserving Savannah's rich culinary heritage and serve up these traditional favorites with their unique twists.
Seafood: Low country boils? They got you covered! Located near the coast, Savannah boasts an abundance of fresh oysters, shrimp, crab, and fish, commonly featured on menus throughout the city. Seafood gumbo is a fan favorite, and grilled fish prepared with local ingredients is hard to pass up.
Farm-to-Table Movement: Emphasizing locally sourced and seasonal ingredients may be the most authentic way that Savannah is honoring their culinary roots. Many restaurants in the city work closely with local farmers, fishermen, and artisans to procure high-quality ingredients. You will see this commitment to using fresh, sustainable produce and supporting local suppliers in the diverse menus.
International Flavors: You could literally eat your way around the world in Savannah. The culinary scene is not limited to Southern cuisine; your favorite International flavor is likely just around the corner. Whether you're craving Italian, Mexican, Asian, or Mediterranean food, you'll find plenty of options to satisfy your taste buds.
Historic Dining: Savannah's rich history and charming architecture provide a unique backdrop for dining experiences. Historic homes, converted warehouses, and former cotton mills are just some venues that have become restaurants. These establishments often offer a blend of delectable cuisine and a glimpse into the city's past.
Casual and Fine Dining: Savannah's culinary scene has something for every taste, style, and budget. You'll find a mix of casual eateries, family-friendly restaurants, and upscale dining establishments. You will never be lost for something to eat, whether looking for a quick bite, a relaxed meal, or a fine dining experience. You need more than one weekend in Savannah to sample all the city's flavors, which is why I enjoy returning over and over again!
Culinary Festivals: Savannah hosts several culinary festivals yearly, celebrating food and drink. For example, the Savannah Food & Wine Festival showcases the city's culinary talent, featuring cooking demonstrations, wine tastings, and special events.
Craft Beer and Cocktails: Alongside its vibrant food scene, Savannah has seen a surge in craft breweries and cocktail bars. Local breweries offer a wide selection of craft beers, while mixologists create innovative and artfully crafted cocktails using locally sourced ingredients. If you love your spirits (the liquid kind), be sure to check out the American Prohibition Museum.
Savannah Museums and Nature Centers
or...What to Do In Savannah When It's Raining!
Whether you're interested in art, history, or nature, this charming southern city has something to suit every taste. Explore Savannah's history, art scene, and cultural legacy in its city museums. And when you want to venture outdoors, there are trails, nature centers, animal encounters, and nature museums that tell the rest of Savannah's story through the natural world, allowing you to discover, in part, why General Oglethorpe chose this area for the first settlement in what was to become the colony of Georgia. 
Operating hours and admission fees can vary for each museum and nature center, some provide ticketing package options, and many are a part of the free Museums for All program which allows for free admission for families who receive SNAP EBT benefits. Before planning your visit, check their websites or contact them directly for the most up-to-date information.
Click the link to the right to learn more about indoor activities, museums and nature centers, or what to do in Savannah when it rains
Day Trips from Savannah
Popular places to visit outside the city
Tybee Island: Located just 20 minutes east of Savannah, Tybee Island offers beautiful beaches, historic sites like the Tybee Island Light Station, and outdoor activities such as kayaking, fishing, and biking.
Fort Pulaski National Monument: You can stop here on your way to Tybee Island. 
Wormsloe Plantation: Established in the 18th century by Noble Jones, a British colonist, the plantation features the iconic 1.5-mile drive adorned with over 400 majestic live oak trees, a great photo opportunity! Today, Wormsloe Plantation is a testament to Georgia's colonial past and offers visitors a glimpse into the region's rich history with interpretive trails and a museum.
Skidaway Island State Park: Spanning over 580 acres, it offers various outdoor activities and stunning scenery. The park boasts serene trails winding through moss-draped forests, leading to breathtaking salt marshes teeming with wildlife. Nature enthusiasts can enjoy birdwatching, kayaking, and fishing in the park's pristine surroundings. The iconic "Big Ferry Trail" leads visitors to an observation tower, providing panoramic marshland views.
Bonaventure Cemetery: Located in Thunderbolt, this is one of the six cemeteries visitors enjoy in the city. The cemetery's serene ambiance and scenic vistas have made it a popular destination for visitors seeking tranquility and a glimpse into Savannah's captivating history. Bonaventure Cemetery has gained literary fame through books like "Midnight in the Garden of Good and Evil," further adding to its allure as a place of haunting beauty and cultural significance.
Savannah National Wildlife Refuge: Just a short drive west of Savannah, outdoor enthusiasts and nature lovers can explore this wildlife refuge great for birdwatching, hiking, and wildlife observation. 
Jekyll Island, GA: Located about 1 hour and 45 minutes north of Savannah, Jekyll Island is a barrier island known for its beautiful beaches, bike trails, and the historic Jekyll Island Club. You can also visit the Georgia Sea Turtle Center and explore the island's natural beauty.
Hilton Head Island, GA: A little over an hour's drive from Savannah, Hilton Head Island is known for its pristine beaches, golf courses, and resorts. You can enjoy water sports, explore nature trails, or visit the Coastal Discovery Museum.
 Okefenokee Swamp: Roughly 2 hours northwest of Savannah, the Okefenokee Swamp is a vast wilderness area with unique flora and fauna. You can enjoy a guided boat tour or paddle through the waterways to experience the swamp's natural beauty and wildlife.
 Beaufort, SC: Situated about an hour and a half north of Savannah, Beaufort is a charming coastal town with antebellum architecture, historic sites, and picturesque waterfront views. Stroll through the historic district or enjoy a boat tour to see the local wildlife.
 Charleston, SC: Depending on traffic conditions, you can get to Charleston in about 2 to 2.5 hours. This coastal city offers a robust culinary scene, rich history, well-preserved architecture, and a vibrant culture that locals and visitors love.
As you can see, there is always something new to explore in and around Savannah, Georgia.
We hope this Savannah Destination Guide inspires you and helps you when planning your next vacation getaway to Savannah, Georgia. Please bookmark this page if you found it helpful as we will update and add itineraries periodically. Did we miss something? Please email us so we may consider additional things to do in Savannah in our next update.
Remember to check out our Savannah Guided Travel Journal…we enjoyed creating it and hope you will love it too!
Thank you!
Dawn Damico and the Vitabella Team
What is Thunder Bay Ontario known for? Located in the heart of nature, with a delightful culinary and cultural scene, Thunder bay beckons you with natural wonder and year-round outdoor activity and sports. Ready to find YOUR Thunder Bay? Read more…
Things to do around Thunder Bay? Take a boat to Porphyry Point Island Lighthouse, stay a few hours or overnight. Here's how to make the most of it!
Traveling is an opportunity to savor the world's flavors. Discover 7 Tips: How to find the best restaurant when traveling…from travel pros