The Northern Georgia Mountains are the perfect getaway to enjoy the outdoors and wine tasting.  photo: Dawn Damico
When discussing wine country, images of European destinations like France, Spain, or Italy with rolling hills, dreamy villas, castles, and rows of vines inviting you to run away to la vita bella may come to mind first. But tucked in the mountains of Northern Georgia is a wine region that should definitely be on your list of places to visit if you haven't discovered it yet. And it's right here in the United States, so no passport or overseas flight is necessary. Unless, of course, you're coming here from France, Spain, Italy, or another European destination to check out the state's wine scene! 
Once you arrive for your weekend getaway to Cleveland and Helen, GA, you are embraced by warm hospitality, National Forests, Blue Ridge Mountains, world-renowned hiking trails, rivers teaming with fish and recreation options, waterfalls, log cabins, stunning vistas, delicious farm-fresh food, and a soul-satisfying return to what "home" feels like.
We headed to the mountains to escape the suffocating heat and humidity of July in Florida. Looking forward to camping, outdoor activities like hiking and mountain biking, and some farm-to-table food, I was surprised to fall in love with Georgia's wine region. Many southern wines are sweet because of grape growing challenges in many southern areas. Northern Georgia has something different. I got my "first sip" of these Georgia mountain wines, and I'm already planning to return and fully enjoy Georgia's Wine Trail region and the reasonably new Dahlonega AVA.
Here is a list of what we did to inspire you as you plan your next Georgia vacation…you really must go!
First – Why Should You Visit Cleveland, GA, and the Bavarian Inspired Town of Helen?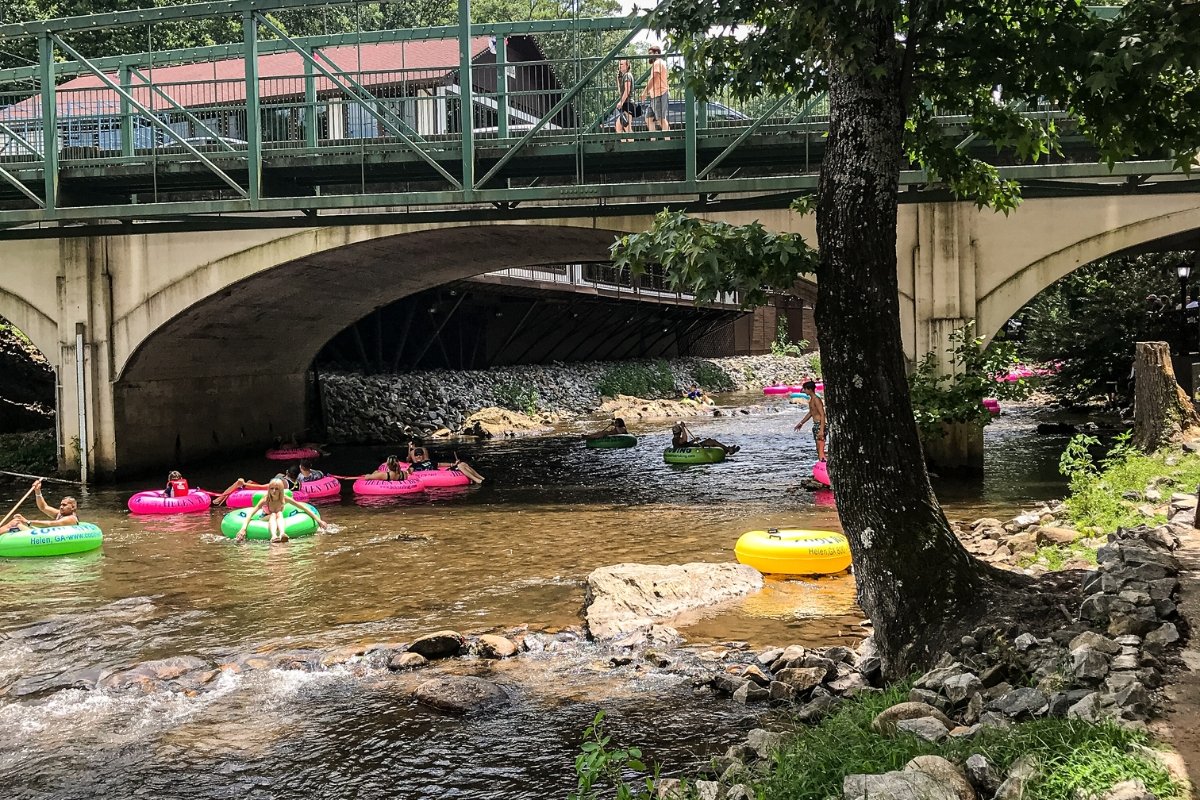 Tubing down the river – a great way to enjoy a weekend getaway to Cleveland and Helen GA.  photo: Dawn Damico
Cleveland is known as the "Gateway to the Mountains." You will be delighted by breathtaking mountain views, miles of hiking and mountain biking, rivers for fishing and tubing, the Bavarian Alpine Village town of Helen, the Appalachian Trail, Dahlonega Plateau, and the heart of Georgia's wine country, which made USAToday's 10Best Readers' Choice 2023 for Best Wine Regions.
If you visit in March, you can join the Georgia Wine Highway event and purchase a passport to explore the region's wines. If you stay in June, you may be lucky enough to witness the annual Helen to the Atlantic Balloon Race & Festival, "The South's oldest balloon event and the United States' only long-distance hot air balloon race."
Helen and Cleveland are in White County, and White County is part of the approximately 133-square-mile Dahlonega Plateau viticultural area, which includes portions of Lumpkin County. The Alcohol and Tobacco Tax and Trade Bureau (TTB) approved the AVA area on July 30, 2018.
Why does that matter? "…prescribe regulations for the labeling of wine, distilled spirits, and malt beverages. The FAA Act provides that these regulations should, among other things, prohibit consumer deception and the use of misleading statements on labels and ensure that labels provide the consumer with adequate information as to the identity and quality of the product."
This means grapes grown and wines produced in the area have something unique about them, and the recognition helps the growers, producers, and public ensure the integrity of their beverages.
Where to Stay in and around Helen and Cleveland, GA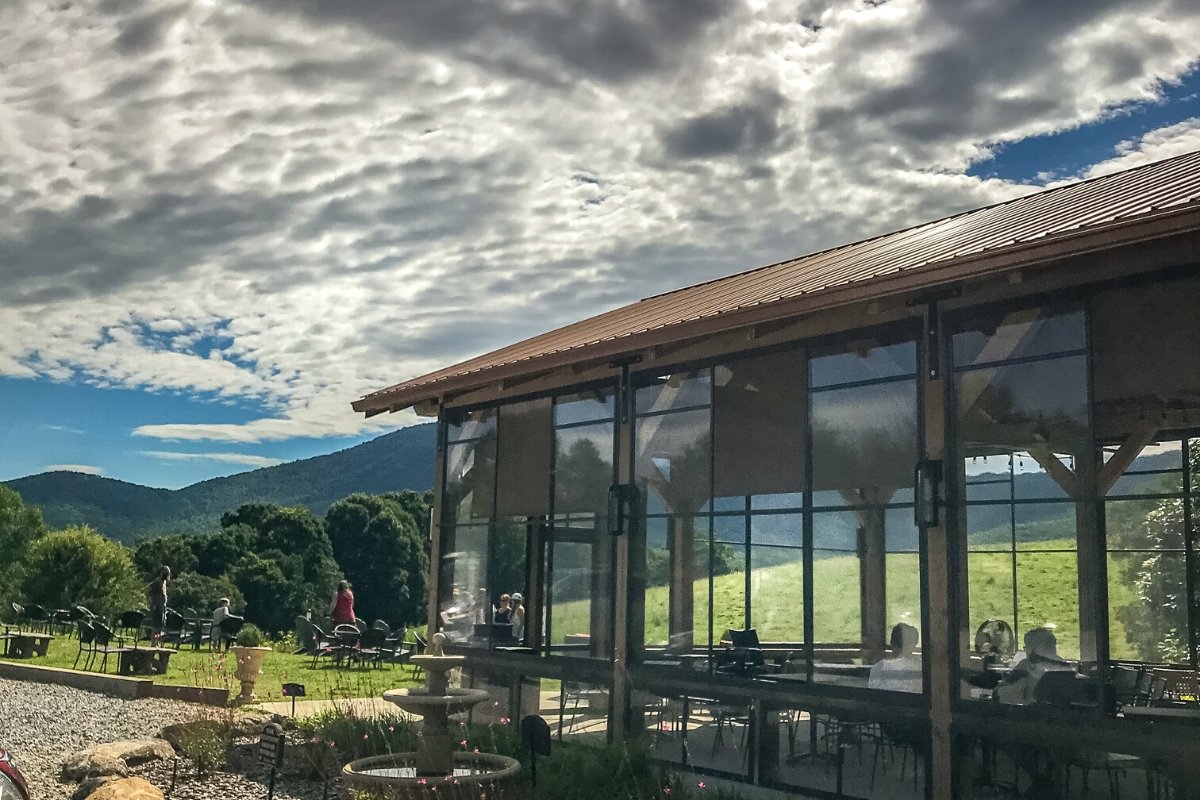 Enjoy the coffee and mountain view at Jumping Goat Coffee and Tasting Room.  photo: Dawn Damico
There are many lodges and short-term rentals in North Georgia, including unique stays on vineyard properties. You'll find options for every taste during your weekend getaway to Cleveland and Helen, GA. Many campgrounds will accommodate tents and RV travelers, which is the option we chose for this trip.
RV Site #1
Twin Oaks RV Park
305 Highway 26 East, Elko, GA 31025
We enjoyed the pool area and fenced dog run. This park has a total of 68 spaces. Several are pull-throughs with lots of space between them. We used this as a stop on the drive up from Southwest Florida to avoid road fatigue.
RV Site #2
Yonah Mountain Campground
3678 Helen Highway, Cleveland, GA 30528
Located at the foot of Yonah Mountain, it is an easy drive to the Bavarian town of Helen and Cleveland, GA. This family-friendly park has a pool area, playground, and basketball nets. They can accommodate RVs of various sizes with 50-amp hookups and tents in the lower area. There is no fenced area for dogs, but plenty of space to walk them on a leash.
The outdoor pavilion provided a fire pit and conversation area. This area is adjacent to the main road, but there is plenty of space between the playground and the road.
We had a pull-through spot near the top of the property surrounded by trees for privacy. Some of the RV areas closest to the pool and entrance had fewer trees and, because they were close to the entry and exit, only offered a little privacy. There are about 110 spots split between 81 for RVs and 29 for tents with electricity hookups.
Other RV Site – Adult Only
Creekwood Resort
Adult only (21+)
5730 Highway 356, Sautee Nacoochee, GA 30571
Another option we looked at with high ratings was the Creekwood Resort. Although we didn't stay here this time because we expected children to visit, it's on our list for another trip.
Where to Drink around Cleveland Georgia
NoFo Brewery in Cleveland, GA offers craft beer flights, music, and food trucks or, bring your own charcuterie board!  photo: Dawn Damico
Wine, craft beer, cocktails, coffee, and everything in between. Culinary travel is all about tasting the flavors of an area and visiting locally owned shops that pour their hearts into creating a culinary experience. It's one of the reasons I love to explore a new-to-me area of the world. This trip to Northern Georgia delighted me and my taste buds!
NoFo Brew Company
1939 Helen Hwy., Cleveland, GA 30528
Closed Monday, Tuesday
Enjoy live music, music bingo, and trivia in this open and light location right on Helen Hwy. Food trucks are scheduled on certain days; however, if you visit the brewery on a non-food truck day, you can bring in your own food. We picked up some burgers at Clyde's Tavern in Cleveland, and other brewery guests created some unique charcuterie boards…they had it dialed in!
Creekstone Vineyards & Winery
295 Hardman Farm Rd., Sautee Nacoochee, GA
Creekstone Vineyards and Winery is part of the Habersham Winery family. You'll love the welcoming southern style as you enter the French-style mansion with a beautiful outdoor area where you can sip wines from the tasting room. Time with family is always fun, and we purchased a small plate of treats to nibble on as we enjoyed the mountain air and talked about health and wellness, life, and what's next. Well-behaved leashed pets are welcomed outside.
Serenity Cellars
IG: @ serenitycellars
265 Laurel Ridge Road, Cleveland, GA 30571
If you're not careful, you can miss this one! From Cleveland, GA, take GA-75N (Helen Hwy.) to GA-384S (you'll see a sign at the intersection noting several wineries along the highway). On Hwy 384, you'll see a small sign pointing up what looks like a residential street. Continue up that road, and just beyond the top, you'll see the winery on the left. We missed it the first time because we thought the entrance was going into a private neighborhood! You can bring your pup and enjoy music on the patio while you enjoy local views and rows of vines.
We enjoyed the Classic Tasting, which included five pours for a reasonable $20 price. You can choose from two varieties for each pour, taking you on a tasting journey from Chardonnay and Bearly Sweet White to Sangiovese to an easy-drinking family-styled blend La Famiglia Rosso and the full-bodied Majestic.
While sweet wines were my first introduction to wine (many, many years ago…don't judge!), and I have grown to love wines that are not overly sweet, mostly preferring reds over whites, the "sweet" wines served here are not like a Moscato. Instead, they have a touch of sweetness that comes from the fruits used to make the wines, like peaches, green apples, and mangos. Think more like the hint of flavor and sweetness you would get when you infuse your water at home with fruit. Because of that, I did enjoy their white wines. Once you move to the rose's, you'll see that hint of pink or peach color derived from keeping the grape skins intact for about two weeks during one of the first processing stages. You will enjoy that "barely there" sweetness with hints of the fruit and appreciate the lack of sugary sweetness overload.
If you love something surprising, I suggest the Luce del Sole, styled after Limoncello. Once our server said "limoncello,"…I was all in! This dessert wine has a 17.5% alcohol level and is zesty with a hint of vanilla. We had a small sip straight. Then our server added a splash of ginger beer, and my oh my! You may never look at a lemon the same way again! We added this little bottle of decadent dessert wine to our "something special" collection and took it home with us!
They also have a chocolate dessert wine; according to our server, they are the only ones in Georgia making it. You can imagine biting into a chocolate-covered cherry when you sip it.
One new thing I learned during the tasting is that you can tell the alcohol content of wine as you move it around the glass. The more it "grabs" the glass, the greater the alcohol content.
Jumping Goat Coffee & Tasting Room
2404 Helen Highway, Cleveland, GA 30528
They have two locations serving freshly roasted coffee with a delightful variety of flavor combos, cocoa, and tea. You can also taste a variety of fruit and botanicals infused in their Southern Origin Meadery drinks like hibiscus and cherry berries. Go for the views, live music, and space for your pup to run at the location mentioned above.
Where to Eat around Helen Georgia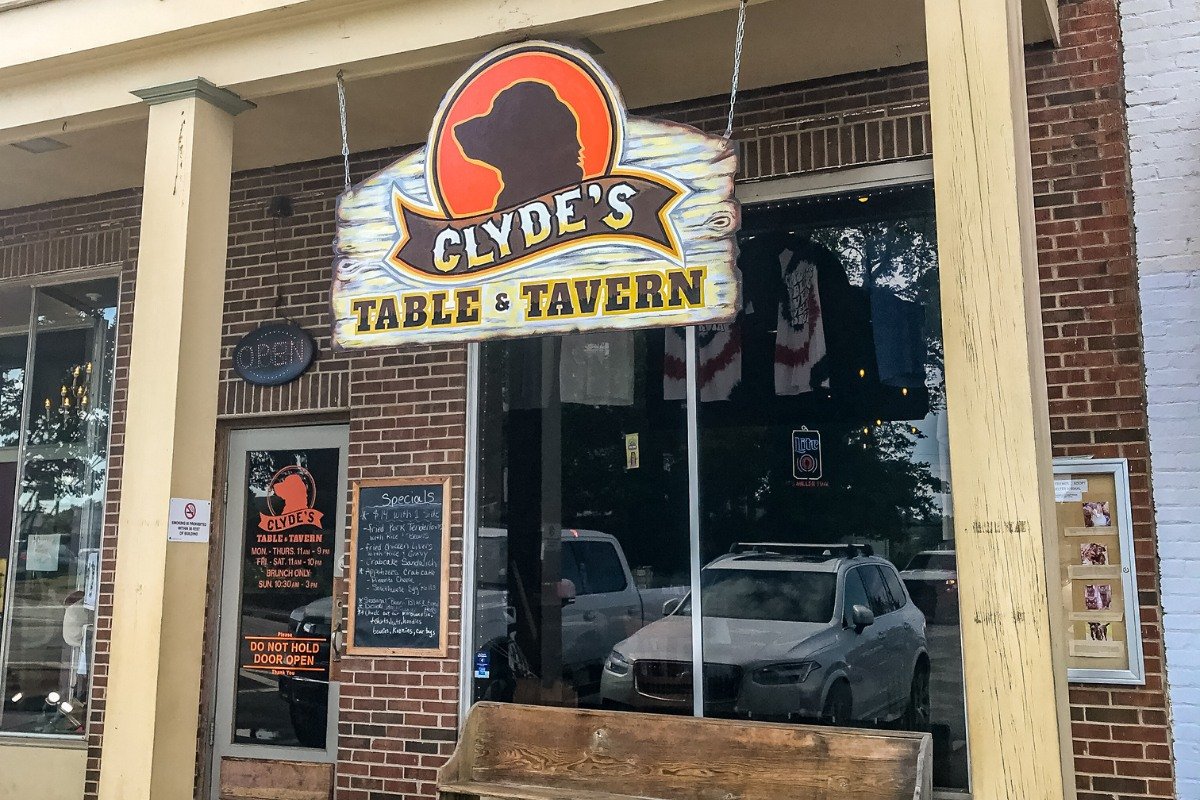 Clyde's Tavern has an exposed brick interior design, great burgers, and a love for dogs! photo: Dawn Damico
Clyde's Table and Tavern
IG: clydestableandtavern
5 E. Jarrard St., Cleveland, GA 30528
Recovering corporate insurance employee and English Setter lover, Ward Gann and his family welcome locals and visitors, including the four-legged kind, to gather in this cozy mountain tavern. The interior's exposed brick walls adorned with stuffed critters, dog portraits, and a welcoming atmosphere will put you right at home. Head on upstairs to the bird dog lounge to find friends you haven't met yet. The food will satisfy your taste buds and stomach, and the staff will greet you with a smile.
Harvest Habersham
(Farm to Fork)
@harvesthabersham
2220 Georgia Hwy 17, Sautee Nacoochee, GA 30571
They tell you to come wearing a smile! So even though reservations are required at this Farm to Table Restaurant with dinner service on Wednesday-Saturday only from 5:30 pm through 8:00 pm, you'll feel right at home.
This restaurant along the highway has indoor, outdoor, and kitchen seating options. You'll park in the back, and as you walk up the wooden steps to the back door (don't all good friends come in through the back?), you see the lush garden growing what might end up on your plate. 
*We went to their NEW location – some pictures online show a location that looks like it's in downtown. The new space is more country-feel than the main-street feel.
I intentionally looked for a farm-to-table experience when we chose Harvest Habersham. The country farmhouse surrounded by nature and beautiful outdoor seating will make you feel like you're gathering at a friend's home…as long as that friend is a great cook! The pace is leisurely, reservations are required, and the menu rotates based on local growers' availability. 
Hofbrauhaus Restaurant and GI Germany Pub
9001 N. Main Street, Helen, GA 30545
The large outdoor pet-friendly patio right along the Chattahoochee River gave us a great view of the well-trafficked water filled with colorful inflatable tubes floating down the gentle current. Designed like a G.E. Germany Pub, the restaurant fits into the Alpine-themed town of Helen. The menu has hearty dishes like Goulash, Prime Rib, various Burgers, and Schnitzel. For a "light" appetizer, you can get a pretzel the size of a dinner plate!
I enjoyed the Lindemans Framboise Raspberry Lambic Beer, a product of Belgium, that brought back memories of good 'ole Bartles and Jaymes, which was many 80's high-schoolers introductions to "wine" and spritzers (remember the reference to my introduction to wine earlier…well, this was it!).
Christoff's Caramel Corn & Coffee
75 River St, Helen, GA 30545
@christoffcarmelcorn
Enjoy Chattahoochee River Views from their 1500 square foot covered outdoor patio and inside…popcorn! But not just any popcorn. Have you ever experienced a movie at a luxury theater that serves food and cocktails directly to your reclining chair and ordered chocolate-drizzled popcorn? In that case, this is kind of like that, but better if you could imagine that. Flavors like Pumpkin Spice with White Chocolate, Gingerbread, Butterfinger, Honey Caramel Corn, Mexican Hot Chocolate, Bananas Foster, and our recommendation: Butter Rum with Dark Chocolate.
Where to Play in Cleveland, Georgia
Yonah Preserve has trails to enjoy for all skill levels.  photo: Dawn Damico
You are in the North Georgia mountains with thousands of acres of state parks and national forests providing endless opportunities for hiking, fishing, gold panning, fly fishing, mountain biking, paddling, golfing, chasing waterfalls, and rappelling. You don't need tons of fancy equipment to enjoy nature's playground. A pair of sturdy shoes will do just fine! Two activities we enjoyed were hiking and mountain biking. While there are many routes and trails to choose from, we decided on the following:
Hiking at Raven Cliffs Trailhead in the Chattahoochee National Forest
3000 Richard Russell Hwy., Helen, GA
This trail is pup-friendly, family-friendly, and in the wilderness area, designed to remain as much in its natural state as possible. It is easy to moderate, crossing little rivers over split logs and rewarding you at the end with a small waterfall and place to swim and cool off. The Forest Service website says it's a 6.6 mile out and back trail; AllTrails says it's 4.9 miles. It would be best to allow 2-3 hours to complete. Your actual time will depend on your pace and how many breaks you take along the trail or at the waterfall at the end. We passed all ages and abilities along the trail, so get out there, go at your own pace, and enjoy it. There are plenty of opportunities to stop and take in your surroundings. Even though we were hiking in the summer, the trail was mostly shaded and not uncomfortable. Our black lab enjoyed swimming across one section of the shallow river where the log bridge was occupied by hikers and loved the pool under the waterfall.
The small gravel parking lot holds about 30 cars and has toilets. Be prepared to pay a nominal $5.00 entrance fee or use your park pass.This helps with operation and maintenance costs. Open year-round.
Mountain Biking at Yonah Preserve
The trail at Yonah Preserve opens at 8:00 am throughout the year. After riding the loop once, enjoying expansive views over the little lake, and not falling off my bike (although I did get off and push it up an incline or two), I was ready to take another spin around. The trail is well defined with a fun mix of roots and bumps. If mountain biking isn't your thing, you can certainly walk it. This mountain bike path was an excellent way to start the morning before it got too hot, although our trail was mostly shaded. There are other routes to choose from based on your abilities.
What's Next in the Northern Georgia Mountains?
Sit a spell and enjoy southern hospitality during a weekend getaway to Cleveland and Helen GA.  photo: Dawn Damico
I'm looking for a good reason to return to White County, Georgia, and the Dalongeha AVA Wine Region and if you enjoy nature's beauty and wine, you should be too! This destination is a great weekend or week-long getaway. It's an easy day trip from Atlanta, Georgia. If you're coming from Florida, it's an easy drive, although you may want to plan for two days driving each way to avoid road fatigue.
I loved the dog-friendly trails and outdoor patios at the wineries and restaurants, so your four-legged family members can be right by your side. If you have little ones, there is a Cabbage Patch hospital where they can go to "adopt" a doll. A family member told me her daughter loved the experience when she was young. Be sure to be aware of festivals and special events in Northern Georgia so you can plan your trip around an event that interests you!
I'd love to hear from you. Where have you been in Northern Georgia, and what would you recommend to a friend (or me!) planning a trip to the Northern Mountains of Georgia?