Tourism is back and back strong! That was the overarching theme at the  first World Trade Expo in Miami held at the Miami Airport Convention Center
News in Travel
The attendees of the World Trade Expo in Miami learned that Miami Airport broke visitor records, helping Miami-Dade County declare that tourism is back.
With a record-breaking number of passengers reported in the year 2022 and the Miami airport serving nearly 51 million passengers, Miami-Dade County and the city of Miami declared that tourism is back and back strong!
That was the overarching theme around the first World Trade Expo in Miami held at the Miami Airport Convention Center on June 13-15, 2023, where over 40 experts in travel and tourism led thought leadership platforms, seminars, and workshops, more than 3000 global tourism professional connected, and over 200 exhibitors met on the expo floor to showcase their destinations and meet with decision-makers in travel.
The event celebrated the power of travel and tourism, the success experienced by the travel and tourism industry coming out of the COVID-19 pandemic, and recognized the partnerships, companies, tourism boards, and travel professionals who work tirelessly to promote a travel lifestyle, which makes that success possible.
The expo's purpose was to strengthen the partnerships and efforts of all the travel and tourism industry professionals. In the opening remarks of the expo, they shared that the tourism industry has fully recovered from the pandemic, and they see statistics surpassing the pre-COVID numbers from 2019.
For example, Miami Airport's 2022 record surpasses its previous record of 46 million passengers in 2019. Passenger numbers are trending 3% higher than their record-breaking 2022 numbers. If that continues, they could see 52-53 million passengers served from the Miami airport by the end of 2023, with projections for 77 million passengers by 2040.
Miami airport representatives said they remain a world leader in passenger traffic and cargo transport. They rank number two in the United States for international passengers and eighth in the United States for total overall passengers served. They are number 14 worldwide for total overall passengers and rank 8th worldwide for total aircraft operations, with about 1100 aircraft operations daily.
They acknowledged that Miami-Dade County benefited significantly from the Latin America and Caribbean regions, which carried them during the pandemic. Activity with these regions partially accounts for why the Miami airport is experiencing the strongest recovery of any international airport in the country since 2019. Recovery like that only happens with efforts from travel professionals in the airlines, travel agents, media, tour operators, and other campaigns and partnerships. However, there are still challenges.
Dana Young, President and CEO of Visit Florida, the official tourism marketing organization for the state of Florida, said that the biggest challenge they see with travel and tourism between the United States, Mexico, and Latin America is visa wait times, especially when an international traveler is coming to the United States for the first time.
For example, seven of the ten inbound markets in Florida are in Mexico and Latin America; six require visas. With Florida's high market share in that region, visa delays disproportionately impact the state. How long are those delays? Presenters noted as follows:
Brazil – 493 days to get a visa interview;

Columbia – 801 days in the city of Bogata;

Mexico – 737 days

Peru – 387 days
Visit Florida has been reaching out to the Global Markets and is making headway in getting tourism back to pre-pandemic levels or better. Tourism from Canada and the UK are close to or surpassing their 2019 levels, and seven out of 10 Latin America markets are returning, some doing better than others.
Despite visa wait times and other pandemic-related challenges, the travel and tourism industries are moving forward strongly in Florida state, Miami, and Miami-Dade County. This is important because tourism activity financially benefits the community and enhances lifestyle.
How do travel and tourism benefit a community?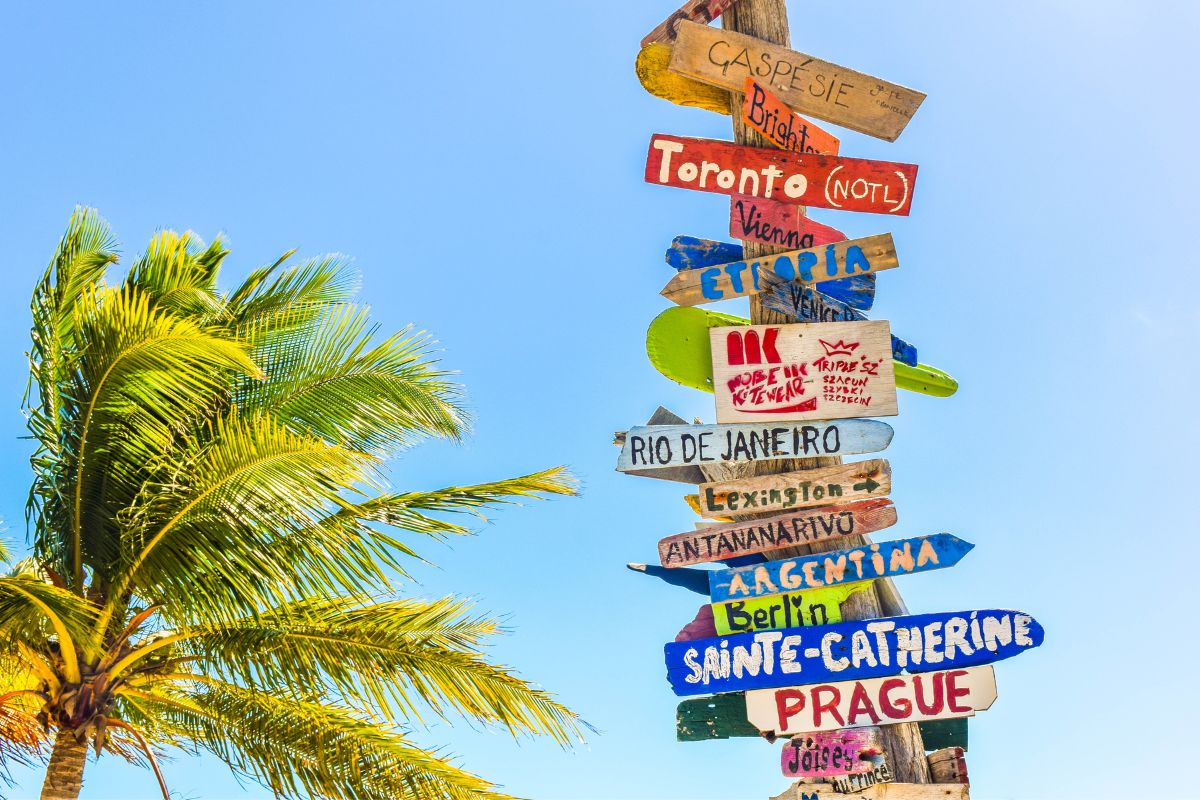 What's good for tourists is also good for residents.
Tourism is an economic powerhouse for a destination's economy. In Florida, tourism is the state's number one source of revenue—each region, city, and county benefits from tourism. By taking a snapshot of tourism in one area, you can get an idea of the economic benefits of tourism for other destinations around the globe. 
For example, presenters shared information about Greater Miami and Miami Beach. They measured activity from two visitor types: overnight and daytrippers (those coming for the day and patronizing shops and restaurants but not staying overnight). The total for the area was 26.5 million visitors in 2022, broken down as follows.
Greater Miami and Miami Beach Visitors-2022
Overnight Visitors
10.4 Million Domestic

4.7 million International

4.1 million Florida
Total: 9.2 million Overnight Visitors
Daytrippers
2.4 million Domestic

1.1 million International

3.8 million Florida
Total: 7.3 Million Daytrippers
Grand Total: 26.5 million visitors
To put the value of these millions of visitors to the area into perspective, the Greater Miami representative shared:
Travelers spent $20.8 billion, adding $1.8 billion in tax receipts. 

Every 181 visitors create one job. 

Miami tourism supports 146,000 jobs, helping Miami-Dade County have one of the country's lowest unemployment rates. 

Miami-Dade County collects approximately 32% of its state sales taxes from visitors.

Tourism activity provides more than $2,500 in annual tax savings per household in Miami-Dade County.
The conclusion is that tourism matters in Miami-Dade County, benefiting residents and visitors by making the community a better place to live, work, play, and visit. Tourism tax revenues enhance residents' quality of life and essential services. So, what's good for tourists is also good for residents.